Preschool Grad: Laura graduated from Montessori pre-school last week! She actually joined her class this time and sang all the songs. We were so proud! Both Tommy and I were in attendance with Nana. Here are some pictures of the event.
| | |
| --- | --- |
| | |
| Laura Sings with Class | Montessori Class |
| | |
| --- | --- |
| | |
| Laura & Daddy at her Graduation Luncheon at Coco's | Laura's Teacher, Ms. Zeny |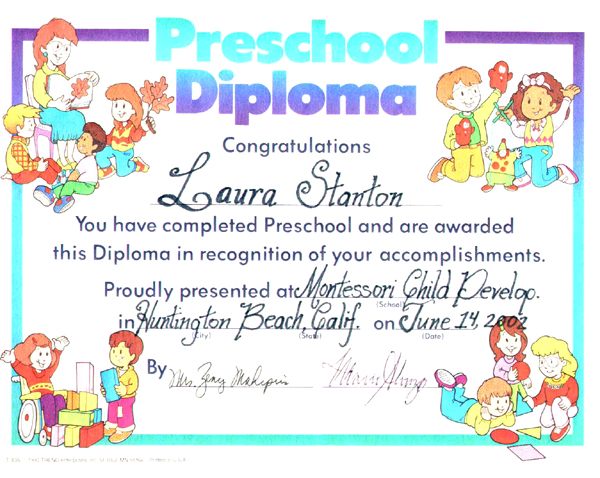 Laura's Pre-School Diploma
High School Grad: Laura wasn't the only one in the family to graduate. Last week, Ashley Luth walked with her class at Huntington Beach High School. She graduated with honors and will be attending Occidental College in Eagle Rock, CA in the fall. Good job, Ashley!!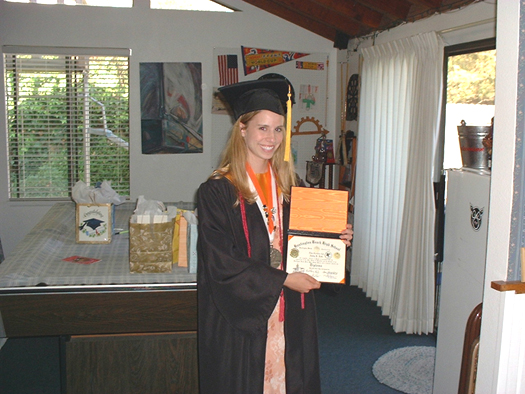 Ashley Luth
Class of 2002

Independence Day Party:
Who: Darren (a.k.a. Skippy)
What: 4th of July BBQ and Fireworks Beach Fest
When: Uhhhhhh......the 4th of July
Agenda: 9am Breakfast
2pm----?????? BBQ
9pm Firewords on the beach......Provided by The Queen Mary
Where: "The Pad", Belmont Shore (Long Beach)
Why: If you don't know WHY, maybe you should read a history book once in awhile...
Further Scoop:
* RSVP before the 30th DAMNIT!!!!! If you go hungry or thirsty, that's your fault!
* BYOMEAT: I'll have hamburgers and hotdogs, grilled plant matter, chips and maybe dip. Sorry, No famous steak, chicken or salmon this go-round.
* BYOB: I'll have (some) beer, sodas, water, juice and some foreign thing liquefying in my fridge.... CAN I BORROW A COUPLE COOLERS????
* Anything extra, or out of the ordinary, please bring.
* Beach Chairs: I have 5.
* Beach Games: I've got a frisbee and football. Anyone got a volleyball net and poles? BIKES AND ROLLERBLADES ARE ENCOURAGED!!!!!! Oh.....Great kite-flying here!!!!!!!!!!!! ...there's plenty to do, and see...
* Sun Screen: You burn, I laugh.
* GET HERE EARLY......I can't guarantee parking, and a few 'veterans' can confirm that parking is available....for $.25 per 1/2 hr in the lot at the end of the street.
* This is PRIME viewing locale for the Queen Mary fireworks, so the place is POPULAR!!!!!!!!!
Spending the night? I have plenty of blankets, sleeping bags, pillows, couch, floor, bathtub....and no tolerance for DUI's. Stay the 3rd and we can do pizza and movies---poker anyone? Stay the 4th, and you can help eat the leftovers for breakfast!