| | | | |
| --- | --- | --- | --- |
| | | | |
| PICTURES | LINKS | ARCHIVES | CLASSIFIEDS |
| | |
| --- | --- |
| I've had 43 guests in Pique's Lair this week. Thank you for coming. If you've missed previous journey highlights, you can read them now. Just click on the ARCHIVES link. I hope you enjoy this weeks virtual excursion. | |



July 3, 2001
Happy Independence Day!
| | |
| --- | --- |
| | Arrivederci, Dia: |
T-Man found himself standing in the virtual unemployment line next to Swede, Dennis, Christine, Ellie, Wendy, Tim J. and others last Friday. The V.P. of Sales at Dia InnerActives delivered the news that the CEO decided to eliminate Tom's position. The first thing Mark (co-owner & confidante) said to Tom Friday morning was, "Yay! You're free!" T-Man had to laugh. Both he and Mark have been fighting an uphill battle, not only with the Ingram account, but within the Dia organization as well. The company is based in Cincinnati, Ohio and it's been tough getting the resources to work on their projects. Being located in California and Colorado didn't help either of them. On a lighter note, T-Man is ready to find a job that he will be able to run with and will also be more rewarding. If it hadn't been for Mark, I think Tom would have left a long time ago. Mark had been right there beside him, waving the Dia flag and beating down the doors at Ingram. Now Mark is left standing alone with the flag. As one door closes, another opens. In the mean time, Tom is giggling spontaneously as he packs up his home office and is looking ahead with optimism. Make sure you address all Tom's email to TOMANDPK@aol.com instead of tom@cre8magic.com for now.
| | |
| --- | --- |
| | Evening at MSC: |
After picking up your name badge, AES associates were escorted up the elevators to the 7th floor. The reception was catered and the food was delicious. This floor is not currently occupied (same with the 8th floor), however, it will soon be inhabited by a temporary tenant who is leasing the space from MSC. The vacancy made for two nice areas for a reception on one side and a presentation on the other. Even from the 7th floor, the view was spectacular. The windows virtually stretched from floor to ceiling. Amazingly enough, they are not double-paned glass panels. After food and refreshments, we were asked to walk to the other side of the building where Frank Perna, Chairman and CEO of MSC Software gave a presentation. It was quite lengthy and I kept thinking he should get himself to some Toastmasters meetings... quick (Hi, my name is Frank Perna and I'm an "um"aholic). Just has he began demonstrating the simulation software, it crashed and we all sat looking at the blue screen of death on the projection screen. Almost as if it had been staged, at that moment the caterers dropped something heavy making a very loud "thunk". Frank quipped that it was the Director of I.T. jumping. Someone else replied that it was the Director of I.T. landing. Finally, the presentation was back on-line and Frank continued his speech. After a short Q&A session, Nader, our fearless leader, came up and announced the Top Ten Reasons for Being Excited About the Merger. Number 1 was not having to hear Nader page Andy (my manager) to the office anymore <grin>. Then it was a tour of the 1st - 4th floors (the most interesting levels). One had a game room, one had a lunch room, one had a recording studio, and one had the technical backbone of MSC that looked more like the Captain's Bridge on the Starship Enterprise in Star Trek. Quite impressive! I was lucky enough to be one of the few that were then led back up to the 9th floor. This is the maze of cubes that house the Executives, Accounting, and... what do you know? Marketing! That's right, not even the executives have offices. Aside from architectural deviances and color schemes, the building and cubical landscaping and culture reminded me a lot of Ingram - very corporate. I hope the similarities from a business standpoint end there. I would like my stock options at this company to actually be worth something in 10 years. <wink!>
| | |
| --- | --- |
| | Queen of the Damned: |
"Queen of the Damned" is yet another movie that I am anxious to be released, however, it's not coming out until 2002. QOTD is another flick based on two novels written by Anne Rice (one of my favorite authors): The Vampire Lestat and Queen of the Damned. I don't think this is really intended to be a "sequel" to Interview With a Vampire as none of the original cast members are in this movie. Since the official website doesn't provide much insight to the movie, I found an unofficial site that provides more on-the-set pictures and behind-the-scenes stories as well as a QOTD Cast Site. This movie has been in production for a couple of years now and the pictures and stories come from the extras that worked on the movie so far. I can't wait to see the results of this project!
| | |
| --- | --- |
| | View From Up High: |
How does 11,000 feet sound to you? I'm not talking distance, I'm talking altitude! If you fly a airplane, this may not be such a big deal. However, it takes a special kind of person to jump out of a perfectly good airplane... and Elana did just that last Saturday. You don't believe me? She has a video tape to prove it and the pictures are on their way. I've seen the video tape twice myself and I could have watched it a dozen more times. You couldn't have pried the grin off Elana's face with a crow bar. Her attitude was... graceful. I know that sounds weird, but she was so caught up in the moment that nerves didn't enter the picture. The launch was steady and she was enjoying the incredible experience so much, her tandem partner had to pull the rip cord. Even the "five point landing" (four feet and one finger) was smooth. The video is set to the music of Van Halen and Blondie. An unusual combination, yet it works. If you have the opportunity to see the video, I suggest you do so. I will try to scan a picture for The Lair's photo album for all of you as well.

On a side note, I finally got the chance to see what Mongo affectionately calls the "Crack House". His apartment is within walking distance of Todd's apartment in downtown HB and both places have a very special vibe to them. Even though the actual living quarters are "quaint", the yard space is really great and either place would be optimal for summer partying (BBQ's, hangin' out, etc.). So, why does Mongo call his pad the Crack House? Well, previous to his modifications (painting), it was in pretty bad shape and there are still things to be done before it would pass as something different. Pieces of fur leopard skin wall paper still hangs in the bedroom. Both Todd and Mongo are paying way more than these places are worth in rent, but you have to realize that they are within crawling distance from Main Street. Like I said, they are optimal summer party pads! So get ready for some serious chillin' and grillin' this year! Reminds me of the old Luv Shaq days....
| | |
| --- | --- |
| | Laura's Promotion: |
Yep, my daughter Laura received a promotion at the Montessori school on Friday. She is moving up from the toddler program to a more advanced level of development. Ms. Paula (one of our favorite instructors at Montessori) will be her new teacher. They had a nice little ceremony at 10:45am in the yard of the school. Laura was to walk out with her class, sit in a chair and when her name was called, walk the red line to accept her certificate and curtsey for the audience. Well, Laura didn't want anything to do with that and sat on her Dad's lap in the audience throughout the ceremony. She clapped for her fellow classmates and when her name was called, Ms. Kahn brought her the certificate and shook her hand. As I sat there, I couldn't believe I was already attending a graduation ceremony. Oops! I mean "promotion". I actually got all teary-eyed and junk! The children sang a couple of songs and one little girl with a pretty voice held the microphone. Tom joked that you should never hand a microphone to a child or a dog. I was supposed to laugh, but I was too busy trying to picture handing a microphone to a dog and what the circumstances surrounding that bizarre scenario would be. Laura will be attending Montessori 5 days a week starting this week.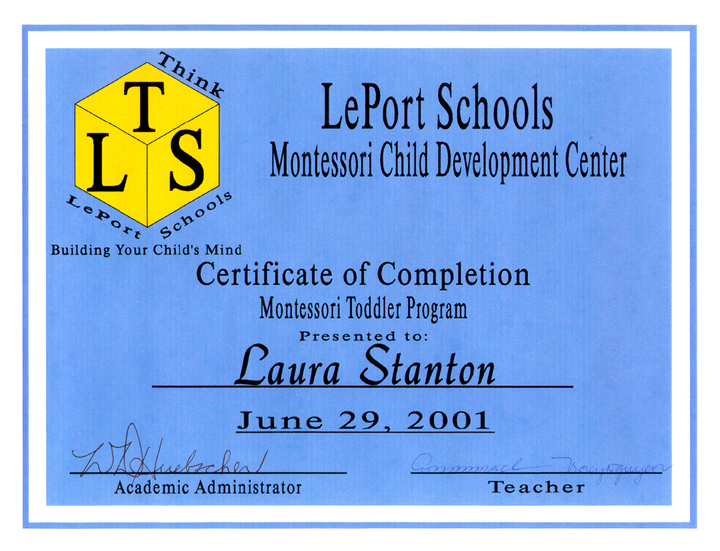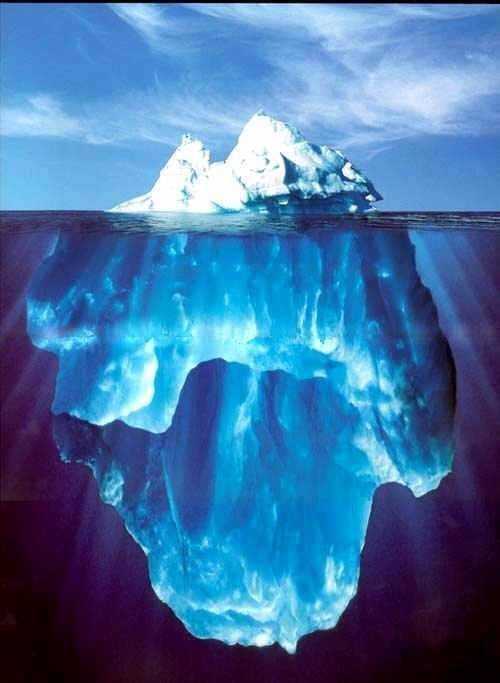 "It's just the tip of the iceberg..."
Submitted by: Jerry Reynolds
| | |
| --- | --- |
| | Guest Book: |
My friend Nancy asked if I wanted her to sign the guest book every time she came to visit. My response was that she could sign it anytime she wanted to. The guest book is a good way to address everyone in The Lair and let them know you're still alive and kickin'. So, if you haven't signed it yet, please do so and let us know what's cookin' and/or give us feedback. If you've already signed it, feel free to sign it again when the spirit moves you. If you have Guest Book Phobia, get thee to a shrink!


| | | |
| --- | --- | --- |
| | QUOTE OF THE WEEK: | "You know, firing <T-Man> is just a ploy to get Mark to quit." - Patty Stanton |
| | LINK OF THE WEEK: | www.ninjai.com - view the trailer! |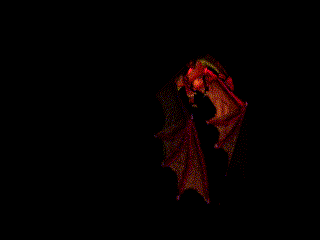 Please send thoughts, flames, favorite Latin mottos and any personal story you have that includes the phrase, "It seemed like a good idea at the time," to: heypique@aol.com. You're feedback is very important to me.

Post anything you want to buy or sell on the CLASSIFIEDS page. Personal ads are welcome, Skippy. <grin>

Also, check out the URLs on the LINKS page! Share your favorite links with us! I bestowed you with the power to add your own.

You see, the CLASSIFIEDS and LINKS pages, polls and the new Chat Forum are examples of what I was talking about regarding the site being "interactive" (that means you get to play too!). Don't get all bashful on me. Remember, I'm the shy one!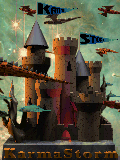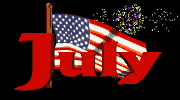 Independence Day - July 4th
Christine Martines' Birthday - July 9th
Don Hoover's Birthday - July 10th
Shaila Mulji's Birthday - July 17th


Joe Aiello's Birthday - August 7th
Todd West's Birthday - August 8th
Michael Hefflin Remembered - August 15th
Kevin Harris' Birthday - August 19th
Jerry Reynolds' Birthday - August 24th
Tom Stanton Jr.'s Birthday - August 25th