On August 15th last year, Michael Hefflin was killed in a motorcycle accident. A candle light ceremony will be held at Area 51 in his memory on the anniversary of his death (Wednesday). If you would like to join us, you are more than welcome. We will begin at 8:00 pm.
.
Friday Family Night was Great: Great friends, Great hugs and Great conversations. Todd and Mongo caught a ride together from HB. Amber came straight from work in a cute summer dress and blazer. Don and Anne graced us with their presence as well. Unfortunately, I walked out of the room for one minute and came back to a science vs. religion debate on the topic of "Cloning". Don admitted to starting it, so I had to spank him. He did give me a bunch of new games and applications for my PDA though! It was awesome to see Anne. She's getting ready to go back to school in the Fall. Amber looked exhausted so we gave her some caffeine in the form of Orange Crush. Had we been thinking, we would have given her some of those pills that T-Man's been popping for an extra boost of energy. Don't get excited. It's an over-the-counter product called Hydroxycut. He swears by the stuff. The effects of the soda slowly wore off, however, and Amber had to go home. I stayed up and chatted with the Hoover's until 1:00am!
Christina Martines starts working for a company called SureFire on August 20th. She will be the assistant to the supervisor in charge of engineering and will need to learn how to use Microsoft Project. SureFire makes laser lights for the military, law enforcement and government agencies like the FBI!
Speaking of the FBI, X-Files fans can expect to see Cary Elwes delving into conspiracies and little green men when the show kicks off its ninth year November 4 on Fox. "Cary who?", you ask? You may know him from movies such as 'Princess Bride', 'Robin Hood: Men in Tights' and 'Twister'. Next to Oliver Platt, he is one of my most favorite comedy actors. However, he will be playing a serious role in X-Files. I'll be interested to see how it all pans out with Mulder being gone and Lucy Loveless coming on board as well.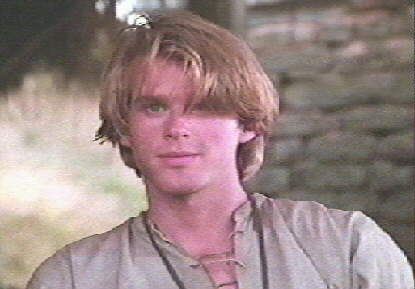 Yeah... he's a hottie, isn't he?
Doing anything on September 19th? Why be bored when you can watch a Tom Greene look-alike cut off his feet with a home-made guillotine? For a small fee, you too can be a part of this unique experience! See it live! On the Internet! You think I'm kidding? CLICK HERE and check out this dude's story! This would have been the link of the week, but I felt it needed more attention than just a colored line under it.
And speaking of happening events, Scott and Jennifer McIntee have invited all of us to their Carlsbad Castle for Labor Day festivities on September 2nd. They may regret it later, but I think we'll all have an awesome time. If you plan on going, let me know and we'll arrange a caravan. If you are going to swim in the pool or lounge in the jacuzzi, you have to bring a suit. Sorry. There will be children present and we wouldn't want to scar them more than we have already.
TV viewers who have grown comfortable with bell-bottoms and feathered hair may have to brace themselves for Jordache jeans, jelly bracelets and Flock of Seagulls. The creators of That '70s Show are developing a new Fox sitcom set in the early '80s. Nothing has been finalized yet, but I'm willing to bet this series will be just as hysterical is That '70's Show. Speaking of the '80s, check out this hair-rific family portrait!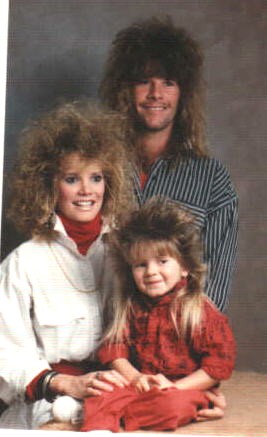 Ouch! Did we really look like that back then?