Monday, August 20th was the first day at the new MSC corporate facilities for 30+ former AES employees. The marketing department took, literally, 4 days to pack. Andy had the audacity to play basketball the previous weekend and sprained his ankle pretty good. It was me, myself and I lugging all the trash and material to be recycled down the stairs as the old building didn't have an elevator. Up until last week, I hardly even minded that fact. When Steve was not in MSC meetings, he helped by being MacGuyver-esq, tying stacks of material with plastic ribbon and dragging the load down the stairs. It was good in concept. In reality, Steve was left with a bunch of material littered all the way down the steps. I laughed so hard, I could barely walk. Luckily, there are four (count 'em, four!) elevators in the new nine-story building. Three out of the four work each day. One is always receiving "maintenance". Last week, while I was at MSC for a meeting, we encountered a little earthquake. Up on the 9th floor, it rocked and really freaked out all the girlies!

Dave Snyder has decided to pick up the torch and host "Obnoxious Party II - a New Level of Debauchery" at Mongo's Crack House! As Mongo stated: We're still young, so let's start acting like it! Mark your calendars for Saturday, September 15th @ 8:00pm. Details coming soon!

Looks like I have been volunteered to represent MSC marketing at the Fall CATIA Operators Exchange (COE) in October. I've been coordinating this bi-annual trade show for AES for over two years now and have adopted the nickname "COE Ho" which I've changed to "COE Pro". I actually attended the Spring event this year because it was held locally in Anaheim. This time, they want to fly me out to Orlando, Florida. Well, if I have to go across the country to sweat and slave for my company, I'm taking Elana with me! Her nickname is "Lead Generator". Heh heh! Here's a picture of her in action at a past trade show: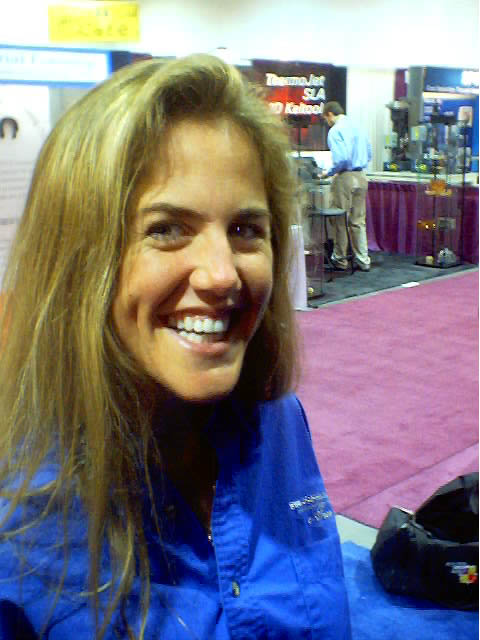 How can any engineer resist?!?
For those of you who are looking for something fun to do this week, Nonsense (Ron Villaescusa's band) is appearing on Friday, August 24th @ 8:30 - 12:30pm at J.T. Schmidt's - 2610 E. Katella, Anaheim (across from the Pond) 714 634-9200. If you can, go and support our friend Ron!