Christmas Boat Parade Party: No way! A party at Skippy's?!? And we're invited?!? He'll be cooking his infamous home-made spaghetti and garlic bread! Please BYOB, lawn chairs and blankets! The shore will start packing in around 2pm and parking is already as TIGHT as a virgin (Skippy's words), so get there EARLY! Set up your beach chair and play on the sand! It'll get COLD at night (50's) and he's only got 2 extra airline blankets (he's not kidding) for guests....so Bring Your Own Blanket! Hot cocoa and coffee....and booze will be flowing as well! If you're thinking of bringing anything--BYOB! (and munchies). OH! And an ornament for Skippy's Charlie Brown Christmas Twig! Jen McIntee is helping out so much, it should be her party! Skippy thanks you, Jen!

Who: Darren (Skippy)
What: Belmont Shore/Alamitos Bay Christmas Boat Parade Party!!!!
When: Saturday, December 15, 2001 3pm-8pm (unless you pass out, then its a sleep-over!)
Where: Long Beach----The Peninsula!!!!!
Why: Cuz he's 100 feet from it!
Directions and Contact: Pique or Skippy

Holiday Letter 2001: Ho! Ho! Hack! Yeah, I churned out another wacky one-pager again this year. It will be posted here on the website on Christmas Day and you might just get a copy of your very own in your Christmas card. I didn't have any problem with content. It just poured from my fingertips and it only took me a whopping few hours to complete it. I'm not sure if that is a good or a bad thing. You'll have to be the judge.
Banzai In Drag: Here are the Halloween pictures that we've all been waiting for! Proof that Banzai actually walked into a liquor store dressed like Madonna!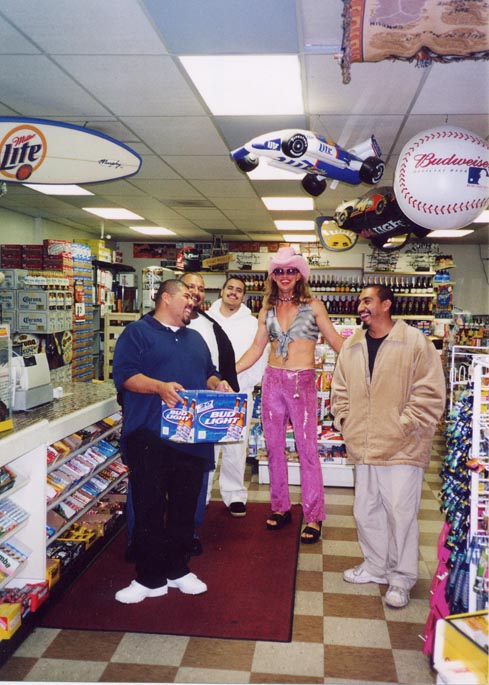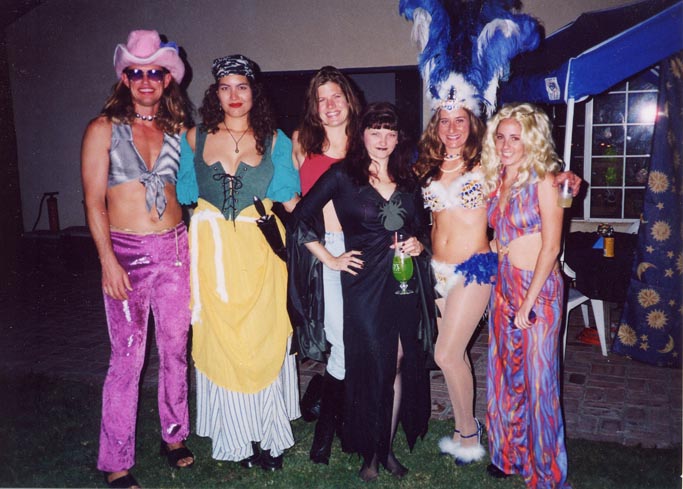 Bumper Sticker of the Year: "It is God's responsibility to forgive Bin Laden. It' is our responsibility to arrange the meeting." - Submitted by Toni
Area 51 Christmas Party: Tom's nuts roasting on an open fire... Todd's dog nipping at your nose. Ah, the holidays. Don't you just love them? I know I do. And what better way to welcome Santa than to spend time with friends? I can't think of a better way to spend the holidays. With many of our family members leaving town for New Years, this may be the very last chance for all of us to get together before 2002. Here's another incentive: We'll have our annual copies of KROQ's Kevin & Bean Holiday CD "Swallow My Eggnog" to pass along. I think that pretty much sets it up. Now, all we need is for Luigi to cook something amazing and we're good to go! According to Martha Stuart, I can dress up any table with just some used toilet paper rolls, some twigs and pine cones from the back yard, some glitter... and voila! A reindeer center piece that blends with your Christmas china! Well, it'll be more like paper plates with puffy paint accents. But, hey, when I get my hands on a glue gun, I'll be unstoppable!
Latest Hit Count: By the way, Pique's Lair received 132 hits last week. Mind you, I'm used to getting around 45 hits on average. The increase is probably due to my URL being on Shan Monster's website. The interesting thing is that even though the URL is no longer listed, the heavy hit count has not decreased much. Therefore, I am assuming that the new visitors are revisiting the site. I can't imagine why anyone outside our circle of friends would be interested in our little world, but apparently they are. Make yourselves known! Sign the guest book below!