Job Status Switch: Just as I get one friend off the unemployment list, another gets added... or re-added, I should say.
Good News: Lisa Jackson received a letter of intent from a company called Travelogia for a Marketing Analyst position. Her starting date is July 15th and she couldn't be happier. We're all very happy for her! Can we all say, "YAY"? Let me hear you!!

Better-Than-Bad News: Darren (Skippy) was laid off this past week. Why is it better than bad? Skippy was more than miserable and they actually did him a favor. He has quite a few irons in the fire and is not worried about the unemployment status. I believe he is rather enjoying the time off. Let's just hope that "time off" doesn't turn into "months off".
Surprise: Shaila Mulji is now working for LoanNow Financial. Do you need to refinance your home? Consolidate debt? Need an equity loan or need a loan to purchase a home? Call Shaila: 714-641-6058.

Kinder Exam: I don't know if many of you are aware of this, but testing to enter kindergarten is a very rigorous challenge these days. The child must know how to count to 10, write their first and last name, stack blocks, stand on one leg, turn around, touch their toes and color inside the lines. T-Man and I exposed Laura to this strenuous exam just last week. To even my amazement, Laura breezed through... after she got over her shyness (where DOES that come from?). She even showed off by counting to ten in Spanish. When her dad asked her to count in Japanese, Laura was bored with counting and denied the request. Even though Laura is mentally ready for kindergarten, Laura will only be four years old when she starts in the Fall. The school gave us the option of putting her in a class with other bright children her age for social development purposes. School sure has changed since I was a student!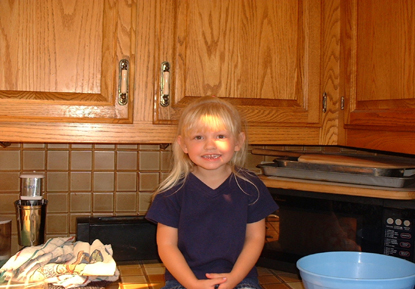 Pumpkin - Waiting for Popcorn

New Tat: "Somebody" <wink> just got a new tattoo! Check out the additional artwork on the
.


Independence Day Party Reminder: If you didn't read the wacky and clever invitation from the Skipmeister, click here. He needs RSVP's by June 30th!


Friday Family Night: I'm thinkin' we should be doing some celebrating! Why? Well, Lisa got a job; Skippy got rid of his job; I'm taking a week-long vacation next week for the first time in years... oh, yes! I said, "Vacation".

va·ca·tion Pronunciation Key (v
-k
sh
n, v
-)
n.
A period of time devoted to pleasure, rest, or relaxation, especially one with pay granted to an employee.
Hope you can join me at Area 51 to celebrate this Friday!